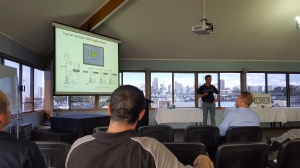 World Power presented the new range of Woodward Easygens the XT platform in the official New Zealand launch on November 1st 2016
Attendance from all ranges of Power Generation and Power Protection fields was healthy with good information provided to those at the presentation. A broad range from Consultants, Technicians and End Users all visited to see and have hands on experience with the new platform.
The launch coincided with the Easygen 3500 LS5 training and later the Easygen 3200 training at the NZ marine headquarters.
View Full Article